Because every generation has a young generation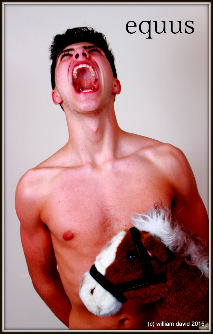 building up confidence days & more
In 2007 the world of the young British male actor suddenly changed when a certain Daniel Radcliffe [Harry Potter] took the role of Alan in the stage play Equus - a role which demanded full full frontal nudity at the age of 17.
Suddenly nudity was "in" for the younger actor and for many this was a painful time. Coming to terms with the demands of a role which leaves you literally no comfort blanket at all took levels of self confidence few had and took me onto a new series of work I never thought I would include within William David photography.
William David 2015
For many on the autistic spectrum crowds and social gatherings, meeting people, attending interviews or auditions - taking part in group activities are a mystifying and frightening experience.
Understanding this is vital if you are there to help someone overcome their fears to as greater degree as the condition allows.
This is why so many of these "self help" counselling sessions or "team bonding" activities - don't just fail to help, but can actually cause serious damage. Sadly even some school's, social services and leading employers fail to understand this & end up the bully in the room.
It is an odd fact until you really think about it - that many of the really confident actors you see on stage television or film suffer from often extreme stage fright and lack of personal self confidence. There is also a very high proportion of actors on the autistic spectrum within the industry.
Outside the industry many children struggle with fear and anguish at school, which if not addressed leads to that fear within adulthood too.
The Halfling project is designed to understand this, and to carefully build up an understanding of the problems raised and solutions that may be found.
Often one of the key problems is society fails to understand that such children even exist - this extends to schools, clubs, employers and even social workers.
Understanding a child within the autistic spectrum can be difficult, but that's often because of ignorance of the conditions implications.
Within the project young people have the chance to discuss and act [sometimes literally] towards understanding. From one to one conversation to taking part in a photo shoot or record a video - but at their pace and without destructive pressure.
Actors can visit the project to face their fears which can be varied - fears which hold them back at applying for or attending auditions - or taking on roles.
More details about these aspects of the project are available on application.
17 year old actor Bruce Herbalin Earle in a spoof of Equus for a recent photoshoot on the Halfling project [no full nudity]
Important policy notes:-
All photo shoot /video content is age and consent appropriate.
In the case of the acting industry it is based on likely levels of confidence required for roles and auditions.
Under 18's must have parental consent and attendance - unless industry sponsored & authorised.
No adult work has ever been carried out by William David and all themes and contexts are strictly maintained as suitable for all in the general industry or modelling/acting arena and age appropriate.
William David has a strict child protection policy & enhanced DBS status.